Partners
2018 RMQHA SPONSORS:
Anyone interested in becoming an RMQHA Sponsor please contact Jodie Witt at 303-659-7752
For more information on sponsorships click here.
---
A special thanks to the American Quarter Horse Association for their continued support and recognition of RMQHA throughout the years.
---

Bank of America® has been the Official Financial Services Provider of AQHA since 1993. Through AQHA Affiliate Grants, Bank of America® supports grassroots programs that directly benefit AQHA members. Each year, AQHA Affiliates receive funding to enhance or develop services for shows, races, youth activities, educational programs, public policy and recreational riding. Financial support from Bank of America® benefits virtually every member program offered by AQHA. Through Bank of America®, AQHA members have access to checking, savings, CD's and money market deposit accounts plus the AQHA MasterCard and American Express card. For more information on Bank of America® or their services. https://www.bankofamerica.com/
---

RMQHA members receive 10% off at Greeley Hat Works! Present your membership card at check out.
---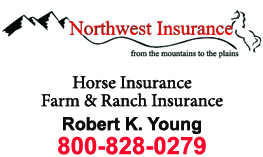 Northwest Insurance, LLC is owned by Robert K. Young of Purcell, Oklahoma and provides horse insurance and farm & ranch insurance. Please visit their website at www.northwestequineinsurance.com.
---
---